Bearing Sensor Links
The following links are bearing sensor resources
Seing elit, sed diam nonmmy nibh euismod tincidunt ut laoreet ater dolore magna aliquam ini.
Bearing Sensors
The most reliable indicator of bearing condition is the temperature of the metal beneath the shoe.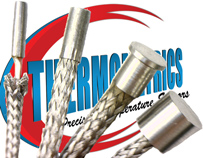 The bearings of industrial rotating equipment operate under arduous conditions - often for considerable periods of time. Recognition of rising temperature can provide a warning of the breakdown of the lubricating oil film; thus allowing machine shutdown and maintenance to take place - avoiding the probable catastrophic failure of the bearing and possible damage to its mounting.
Bearing Sensor Configurations